Our Staff
Robyne Captanis (Doctor Of Chiropractic)
Education & Experience
Graduated: (April - 1990)
Los Angeles College of Chiropractic
Degrees

Doctor of Chiropractic
Bachelor of Science

Board Certified Naturopathic Physician
Certified in Clinical Nutrition
Specialized in Homeopathy
Works with patients who are concerned with weight loss
Physical Fitness Trainer

Dr. Robyne Captanis is the President and founder of Captanis Chiropractic & Wellness Center. She received her degrees, Bachelor of Science as well as her doctorate degree in Chiropractic from the Los Angeles College of Chiropractic in April of 1990.
She has been in practice for 24 years and loves what she does! She shows much gratitude to the awards she has received throughout her career, which include "Chiropractor of the Year" in 2007, and "Top Long Beach Chiropractor" in 2013. Dr. Robyne also values being a part of several chiropractic associations, which include the esteemed CCA.
She believes that her patients should be treated as a whole which is why she uses the holistic approach; the mind, body, and spirit. Even at this point in her career, she spends many hours at weekend seminars learning how to use homeopathy and nutrition as part of her treatment plan for her patients. She is also a Board certified Naturopathic Physician. She specializes in the technique Applied Kinesiology, which is a form of using muscle testing with acupuncture meridians.
Several patients can attest to her philosophy, that a treatment is not over until a big hug is given before they walk through the door.
Dr. Captanis also is part of the faculty at Southern California of Health Sciences, formerly known as LACC. She served as President of the Alumni Board for 2 years and a Board member for the past 12 years. She loves being able to give back to future doctors by being part of the mentoring program where she has been able to share her knowledge of Chiropractic with students who are in the Intern Program.
When Dr. Captanis is not treating patients, she spends time with her family, which include her two adorable dogs, Bella and Sophie. She loves to travel, read, and go to the movies and LOVES football!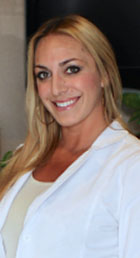 Katerina Captanis (Doctor Of Chiropractic)
Dr. Katerina Captanis is a board-certified licensed chiropractor and nutritionist inspired by her passion for athletics and all things active. Her athletic injuries led her to seek and understand musculoskeletal dysfunctions resulting from overuse and nutritive imbalances. She uses her knowledge of sports as a resource to focus on musculoskeletal issues, and enhance overall wellness. Dr. Katerina's optimism and enthusiastic outlook are also in tune while seeking to improve people's health and well-being.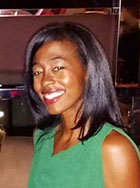 Neishell Williams (Massage Therapist)
Neishell has been a therapist her entire life. She has always liked to help people, especially since she is an athlete herself. Through her athletics, she experienced a shoulder injury, and had to spend a lot time in the training room, experiencing several different types of therapies. The healing she received from massage therapy during the rehab of her shoulder injury is what initially sparked her interest in wanting to become a massage therapist. The deciding factor that led her to following through with becoming a massage therapist was the diagnosis of her aunt with "Stiffed Man Disease." This disease left her aunt having complete rigidity of the left side of her body. The doctor in charge of her aunt advised massage therapy to help prolong the side effects of the disease. In hopes to become a beneficial aid in her aunt's recovery, Neishell decided to attend Fremont Massage Therapy College. Neishell specializes in sports massage, hot stone massage, deep tissue massage, reflexology, myofascial release, Swedish massage and pregnancy massage.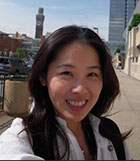 Joling Chang, L.Ac, RN
Joling is the California certified Acupuncturist/ Nurse and received TCM (Traditional Chinese Medicine) education from both of Taiwan and U.S.A.
She has almost 10 years nursing experience in Taiwan and has been educated in Nursing integrated with TCM master program from one of the most famous nursing schools "National Taipei University of Nursing and Health".
After several years of a demanding work schedule, she developed health issues such as anemia, insomnia, palpitation and lower back soreness. Her hemoglobin (Hb) was below 10 mg/dl without structural illness, therefore, she got acupuncture treatment. The needling and herbal remedy helped her to strengthen the healing system and balanced the Negative/ Positive energy in her body. Finally through the aid of acupuncture, she achieved a refreshed, healthy body.
Through those struggles, she thought to herself "what is the true meaning of health" "what is life?" Society has the natural ability to enhance and strengthen the body to heal itself. That is the reason she is studying thoroughly into Traditional Chinese Medicine, and looking for a better way to help people enjoy their wonderful life.
Vanessa Mendez (Front Office Manager)
Vanessa has worked the front office at Captanis Chiropractic & Wellness Center since February of 2013. She has over four years of experience in a chiropractic setting. She is always willing to lend a helping hand to anyone in need. Vanessa radiates kindness and brings a smile to everyone she meets. She attended Phineas Banning High School in Wilmington and graduated in 2005. She values her family and friends, so if she is not in the office she is usually enjoying time spent laughing with family, either barbequing or watching a Dodgers game. Her years of experience in an office setting has been spent contributing to the homeostasis of the daily routine. She contributes to the front office by answering phones, checking in patients, collecting payments, setting up appointments, and checking insurance. She also assists the back office by prepping the treatment rooms for the day, setting up patients on therapy, & checking in on patients when needed. As a patient, she will be your go to for any behind the scenes questions and inquiries, and you can always count on her positive attitude to brighten your day.